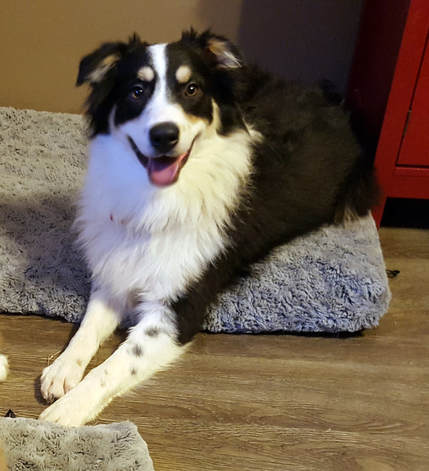 I have a story about Bodie that I want to tell, because I think it can be a learning experience for us all. Bodie lived with us for a month and loved every single dog here. He would play all day long if given the opportunity. He and Cisco were especially close, as you can see by the cover photo on our page. Bodie was adopted by a family who had a female dog, and they got along wonderfully, played together so nicely. But suddenly, they took Bodie to doggie daycare, and everything changed. My happy go lucky, friendly dog turned aggressive and attacked 5 different dogs at daycare. After that, he even started attacking the female dog at their home. They returned Bodie after only one week, and at first I was skeptical about this behavior, not having seen it myself and knowing that this was so completely out of character for him. But when he got back here, he was behaving the same way to the dogs here, including Cisco. Cisco was even afraid to go near him. Bodie ended up attacking 3 other dogs that day, the very same dogs that he had been playing with so nicely only a week before. What happened to my happy go lucky dog? I couldn't even let him in the yard unsupervised and I was very worried about him.

That was Sunday, and on Monday I started desensitizing Bodie from whatever had happened to him. I took him outside with me and small groups of 3-4 dogs at first, and a bag of treats. When Bodie would growl at a dog, I gave a strong verbal correction, and then the minute he played nicely, I gave him treats and verbal praise. We walked all over the yard doing this, reinforcing his good behavior with treats. He was soon sitting next to the other dogs with them all taking treats together without issue. We tossed the ball and played fetch for a while to see if there may be any resource guarding, and there was not, so I rewarded that good behavior. We did this in sessions of about 10 minutes several times throughout the day, adding more or different dogs to the sessions. By the time the day was over, Bodie was not growling at all and I had 6-8 dogs all sitting next to each other nicely taking treats as fast as I could dish them out. After the last session, Bodie came indoors with me and he, Cisco, and Levi got into a huge wrestling match, playing with toys and having a great time. And we have not had one bad incident from Bodie since. I can now let him back into the yard unsupervised with the other dogs, because he is trustworthy again. No growling, no fighting, just lots of appropriate play.

So what happened? I believe this was 100% trust based. Bodie is a sensitive boy, very tender hearted. He had only been with his adopters for a couple of days and really hadn't had a chance to bond and adapt to the changes yet, and then he went to doggy daycare where there were all new people and all new dogs who were probably all in a state of arousal and at a high energy level. I think Bodie felt threatened, and acted defensively the only way he knew how, which is with his teeth. The daycare trip impacted him so much that this new behavior lasted with him until he got back here and we were able to work through it. There is a canine learning experience called Single Event Learning where one traumatic event can have a major impact on a dog's behavior, and I believe this is what happened to Bodie. Something happened to Bodie at daycare to completely change his personality, and we will never know what because he can't tell us. But this is an important lesson for us all, so I wanted to share the story.

Bodie's adopters were good people. They thought they were doing their very best for Bodie by taking him to doggy daycare so he could socialize and interact while they were at work. But not all dogs are suited for doggy daycare, and he hadn't had enough time to settle in to his new life before he was placed into another strange situation and it was just too much for him. He was completely overwhelmed. This dog thrives off leadership and he must be able to feel like he can trust you to handle situations for him, or he will attempt to handle them himself, and he just doesn't know how so he reacts. Even while I was working on his desensitization, I could see the mistrust in his eyes if another dog approached him from behind. He felt like every dog was a threat, until I worked with them all together for a while and made him understand that they are not a threat and that I am in control and he can relax. And now, we have our happy, friendly, playful Bodie boy back.

When you adopt a new dog, changes are nobody knows their full background. Please give them a little time to relax and decompress and get bonded to you, learn to trust you to take care of them, before placing them in new situations. A lot of sudden changes can be a shock to a dog, and then they react the only way they know how, which is defensive, which to humans appears as aggression. They can't tell you what is going on, they count on you to read the signals. Be good doggy moms and dads and love and protect your new dog for a while before you place them in any new situations. It will make for a much stronger bond between you and a very happy adoption.